Culture arts Chronicle Queens living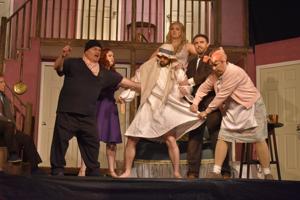 PHOTO BY MARK LORD
A sex play within a play, with the set itself starring 1
Mark York, left, Stephanie Sands, Angus McLean, Lisa Curran, Thom Harmon and Miriam P. Denu in "Noises Off," which also features Paul Mastrella, Gary Ducoing and Danielle Fleming.
Posted: Thursday, March 21, 2019 10:30 am
A sex play within a play, with the set itself starring by Mark Lord, qboro contributor Queens Chronicle | 0 comments
When was the last time you attended a community theater production at which the set received a round of applause?
It doesn't happen often, but it did at the opening night performance of Maggie's Little Theater's production of Michael Frayn's "Noises Off!" last Friday. And it didn't happen only once!
The remarkably detailed two-tiered set, featuring no fewer than eight doors over both levels (a tip to what's in store), serves as the living room and backstage area of a play within the actual play. It is the handiwork of art director Alan Perkins, master carpenter Michael Tierney and a crew of about a dozen painters and additional carpenters, all of whom deserve kudos for pulling off what must have been a monumental task.
And every inch of it is put to good and often hilarious use by director Erik Neilssen, who pulled out all the comic stops, and his intrepid cast of nine, most of whom play dual roles as actors and their respective characters in the sex farce they're performing, "Nothing On."
As is the case with most plays of this sort, we find, in addition to the multiple entranceways, a young woman in her underwear, older men whose trousers keep dropping and plenty of on- and offstage shenanigans.
There is also one of the most spectacular pratfalls you're likely to see anywhere, courtesy of Thom Harmon, who plays Garry, a TV actor hired as the romp's leading man.
Lisa Curran brings a great deal of stage savvy to her role as Brooke, a young, inexperienced actress, who has a difficult time paying attention to others onstage and off and seems to constantly be popping a contact lens.
Angus McLean has fun as the dim-witted Freddy, whose recurring nose bleeds earn laughs aplenty. Stephanie Sands is the cheerful Belinda, who often finds herself keeping the peace amidst the madness.
Paul Mastrella is properly temperamental and sarcastic as Lloyd, the harried director. Mark York is the half-deaf Selsdon, an actor with a drinking problem. Gary Ducoing is a clearly overworked stage manager and Danielle Fleming has many an emotional moment as his assistant.
But it is Miriam P. Denu who threatens to steal the show (and the one within it) as Dotty, an acclaimed actress playing a slow-witted housekeeper. Her repeated entanglements with a telephone, a newspaper and a sardine or two (don't ask!) are most entertaining, indeed.
Praise, too, goes to technical director Ed Voyer, costume designer Amy Ellis and stage manager Jess Ronzo, who must have a heck of a time maintaining some semblance of order backstage at Maggie's.
'Noises Off'
When: Sat., March 23; Fri., March 29, 8 p.m.; Sun., March 24 and 31, 2:30 p.m.
Where: St. Margaret Parish Hall, 66-05 79 Place, Middle Village
Tickets: $20; $18 seniors, kids.
(917) 579-5389,
maggieslittletheater.org
Print
Posted in qboro: Arts, Culture & Living on Thursday, March 21, 2019 10:30 am.
,
uderwear
,
wine